We primarily use the main national hubs and channels of recruitment within Sweden. In this search we constantly work to have great people in the pipeline that are ready to step up when required.
When these resources can't fulfil the needs of our clients we have experience in extending our search for vocational expertise outside the countries border.
Every individual in our service is hired by the agreements statuated by the corresponding union in each field.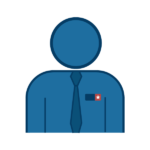 We understand that the search for great people derives equally from finding competent individuals aswell as a great fit for the assignment. In this endeavour we work to get a full understanding of the needs in regard to both personality and competence of our clients.
We believe that our business model where every personnel handler is their own business owner ensures the commitment and personal involvement that is required to make a great mediator between client and recruitment opportunities.
Outsourcing, or in-house outsourcing has several shapes and sizes and is tailored by each unique client to make sure that a service runs smoothly with minimal involvement.
This enables the client to put full focus on the main driving force of their business.
Is our department that specializes in staffing for industrial work in Sweden.
The industrial sector in Sweden today has several challenges, one being that skilled workers of practical vocation being scarce on the market.
In our work with finding staff for our clients we have experience in extending our search and creating recruitment paths outside our borders. Both within the European union but also to neighbouring countries, for example Ukraine.
Is our department specialized in providing nurses, social workers and doctors for the regions and principalities within Sweden.
The healthcare business is a dynamic market constantly in need of more skilled workers at many locations around the country.
Our role in all this is to find and inform both employers and individuals where opportunities and need arises and connect the two parts together.